A new start…
Moving house can often be very stressful, so many rooms to organise and when you see all your things spread out in front of you it's hard to know where to start.
I'm there to help you with your wardrobe, it's not everything, but it's something. And it will remove a part of your stress for at least the one room.
Moving house allows you to really go through all your clothes and I would advise to do a clear out before packing to ship as this will really give you a clean slate in the new place. There's no use bringing items that you don't intend to keep, items that are broken or misshapen. Be strong and ruthless, think of new beginnings.
This gorgeous wardrobe space is a dream, we can see double railing which helps to divide and conquer. I would've loved to have seen the middle wardrobe with only the top rail as this is where I would place all the dresses and longer items. It's just a waist of rail. But it will be concealed by the clothes in this instance.
On the lower rails I would recommend keeping shorter jackets, shorter tops, skirts and trousers, anything that doesn't require length basically.
My lovely client wanted to really start over so she invested in wooden hangers in the same finish for all her clothes, this might not seem like the most important thing but I want you to open your wardrobe and just feel happy. I don't want you to open the doors and then the first thing you see is a rollercoaster of rainbow coloured misshapen hangers ruining the aesthetic. The clothes will look much better if they are all on the same type hanger.
For Coats and knits I would recommend an even thicker hanger so to not damage the garment or leave hanger dents on the shoulders. Having that said, I do recommend always folding your knits. The hanger is so important for the health of your chosen items.
There are so many ways to organise a wardrobe, and it all really comes down to your clients preference. Some like to dress by item, some like to dress by colour. In this very instance I decided to create a slightly different way of organising. She has the most amazing dresses, silks, sequins, knitted to casual cotton.
So in order to separate but still keep it looking lush, I kept the fragile silks and sequins apart from the rest and separated them by breaking off the colour with placing the whites in the middle rather than the beginning.
It gave a nice balance but also made it so much easier for her to find her items by style. So if she wants that sequin or silk dress, she knows that they are in one place, and if she wants her more casual dresses they're on the other side.
Next to these amazing jackets I ended up hanging her tops as it gave a more symmetrical look and made more sense while picking out an outfit, on the shelf above she will have her chunky knits as they do better folded.
It was so inspiring seeing her well curated outfits, I definitely will try to add some nice sequins and a fur coat to my own collection. She has a great balance of core items but I also know she dresses very well and the items that might to others look elevated she wears beautifully and effortlessly. This is the essence of a personal style.
Even to me at times it can seem like a massive task before I can fully envision how I want the wardrobe to look. The trick is to get everything changed on to the correct hanger and place the items roughly where you want them to then slowly rearrange as you go. For me that truly helps to get a clearer picture of the end result.
My client is super happy and I will stay with her to do regular organisations and to make sure she gets the most out of her amazing wardrobe and all the gems within it.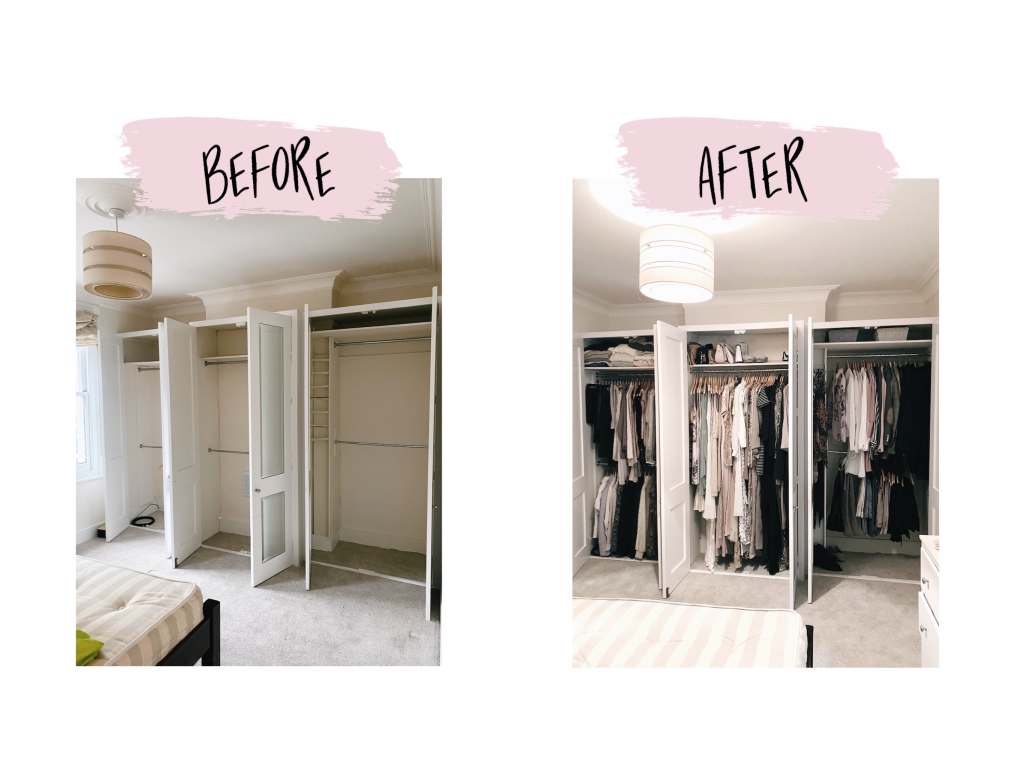 Happy client, happy StyleLis x
If you are interested in my services there's a contact link above or you can reach out to me on Instagram @stylelis